👋 Hi, Product Hunters!
There is a way to start selling online right away without investing in a full-scale online shop. Meet AidaForm - an easy-to-use order form builder. Create your custom payment pages in minutes and start selling goods online. Here's what AidaForm can help you with:
Custom Order Pages
Create sleek payment pages for your goods in minutes without coding. Just use a simple drag-and-drop editor. Add your logo and company colors to match your brand. Set up custom URLs.
Flexible Payments
Connect your order pages to PayPal and Stripe, or let your customers choose an offline alternative. Collect recurring payments, create discount coupons – AidaForm supports it all!
Dozens of Templates
You don't have to be a designer! Simply pick a template, add your texts, product lineups, and prices. All our ready-made order pages are mobile-friendly and take minutes to set up.
Sounds interesting? Register your free AidaForm account now and try it yourself. Free accounts always stay free, we won't ask you for your credit card information ;)
Want to get the Expert features, too? As a member of the ProductHunt community, you get a 25% discount off the first 3 months when you sign up for the Expert pricing plan. Use the SEPTEMBERHUNT code at the checkout page to activate your discount.
Most Popular Ready-Made Order Pages
Choose from a variety of intuitive conversational forms: be friendly or formal, serious or easy-going. Each form is mobile-ready and customizable.
How to Make a Payment Page in AidaForm
Step 1
Create Your Order Form
Start blank if you want to create a form from scratch. Or select one of our examples and tweak it in the Builder.
Go to the Form Elements menu and add the fields you need. To add fields, just drag and drop them to the working area. Set up the Paypal or Stripe fields if you need a form with one payment method. Or add the Order Cart field and connect it to the Checkout page – this way, you get a full-functioning online shop with up to three payment methods to choose from!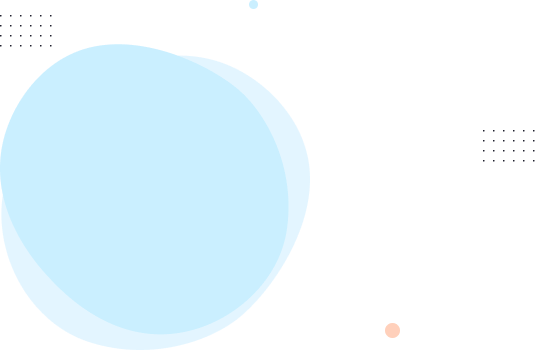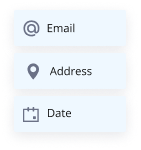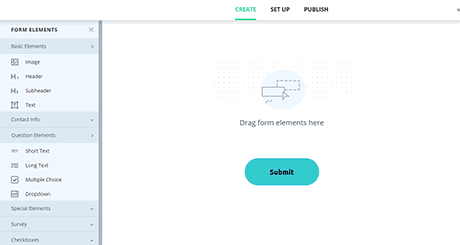 Step 2
Adjust the Design
Once the structure is ready, open the Form Designer. Choose from various design themes to find the one that fits your brand's color palette best. If you couldn't find a perfect one, open the theme settings and customize it with your own colors. Explore other Form Designer options: change the font type and size, button styles, and much more!
Don't forget to add your logo to the order form. It will visually connect the payment page to your website and brand.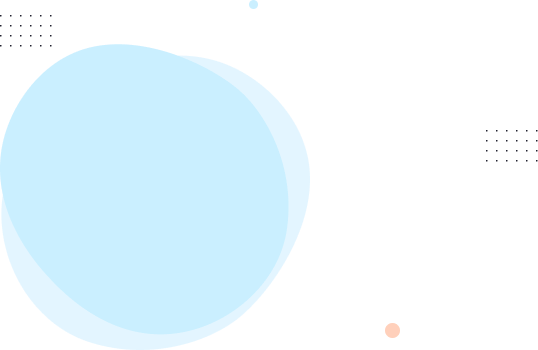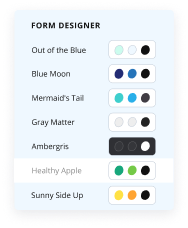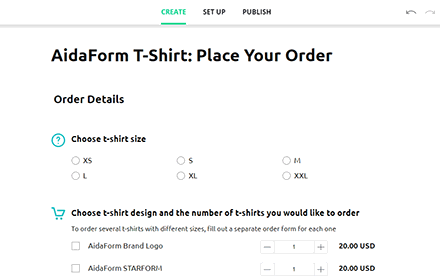 Step 3
Publish the Page and Start Collecting Payments
Go to the Publish tab and switch the toggle ON. You'll get a direct link to the form and the HTML code if you need to embed the form into a web page. Explore additional options, too: select a custom domain or subdomain, adjust embed settings, etc.
Now you are all set up! Every time someone places an order, you'll get an email notification. You can also view all orders in the Results tab of your form page. That's all you need to make your own simple online shop with the AidaForm service.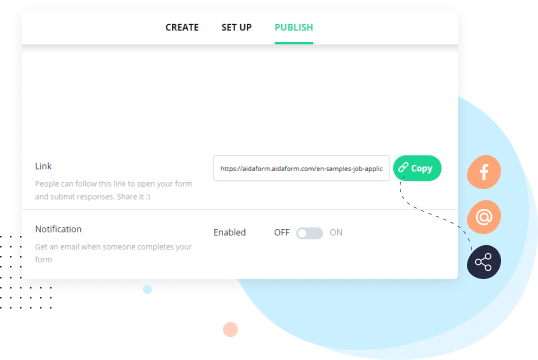 More Cool Ideas to Make Payment Forms Convert Better
Personalize Ordering with Logic Jumps
Show customized form pages based on the selected delivery method. Let your customers enter only the necessary contact information. Create the shortest 1-on-1 guided checkout with a higher completion rate.
Create a Custom Thank You Page
Customize your thank you page to match your brand. Inform your clients about the next steps concerning their order, collect feedback, or conduct a product survey. Have more products? Add upsell options!
Optimize the Process with 3rd-Party Integrations
Create a list of orders using the Google Sheets integration or export results as Excel documents. Connect AidaForm to other services via Zapier: CRM, email marketing tools, etc.
Analyze Real-Time Reports
Evaluate the performance of your order page through informative visualizations inAidaForm. Check views and responses, compilation rates, and trends over time. View top devices and countries, response summaries field by field, and much more.