How to Make an Order Form that Boosts Your Sales
Want to sell your goods online? Then you're probably going to need an online order form on your website. Such forms are beneficial for both you and your customers: users can quickly and easily pay for their orders and you can receive those payments right away. All you need to do is create an online form with payment.
You're probably thinking right now, 'How can I create an online order form for my website if I don't have any programming skills?' Just use the AidaForm service. Our intuitive drag-and-drop form builder lets you create an online order form without writing a single line of code. Choose a color theme and font to match the design of your website or brand, integrate your form with your PayPal or Stripe account to securely collect payments and add a link your form to the Place Order button on your website. With AidaForm, it's easy to monitor and analyze your orders – they will be stored in your personal account so you can view them at any time.
Still wondering how to create an order form for a website? Read the tutorial below to create your own order form in a few easy steps.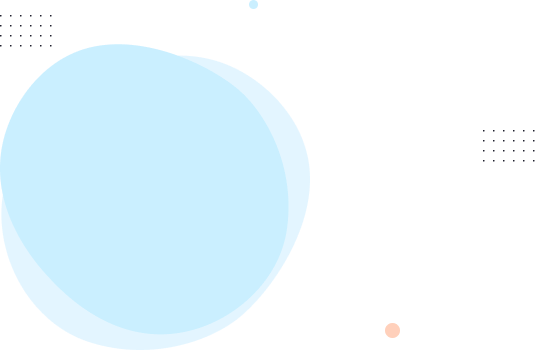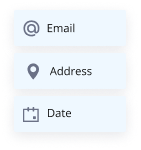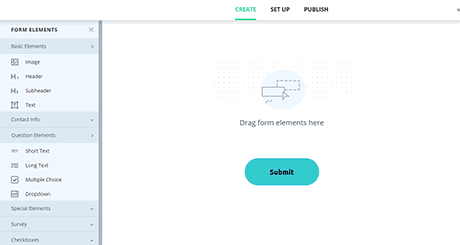 4 Step Guide: How to Create an Order Form with AidaForm
Create an Online Order Form
When you log in to your account, you'll get to your member's area. To create a purchase order form, click Create a Form and select an option that fits you best:

Choose Start Blank if you want to create a custom order form from scratch. You'll be able to just drag every field you want to the blank page.

Need some inspiration to start with? Select one of our order form examples and tweak it in any way you like in the Builder. Here are some popular ready-made order forms:
Adjust the Form to Your Needs
Go to Form Elements and add the fields you need for your order form. To add fields, just drag and drop them to the working area. For example, if you're offering different product options, add a checkbox block to let your customers select the necessary features. Add the Order Cart field to collect orders without advance payment, or set up the Paypal or Stripe fields if you need to create an online form with payment. Please note that to collect payments you will need to upgrade your account to Expert. After you've added all the fields you wanted, place them in the right order and adjust label texts and settings by clicking a green Settings icon.
Once the structure is ready, open the Form Designer to add some color to your form. Choose from a variety of design themes to find the one that fits your website's color palette best. Add your logo to the order form to visually connect it to your website and brand.
To publish your form, click Publish and generate a direct link to the form. Add the link to the "Place Order" button on your website. In this case, your customers will go to the form page at AidaForm to complete their orders. Every time someone places an order, you'll get an email notification. What's more, you can view all the completed orders in your AidaForm account to monitor your weekly and monthly sales.
That's basically all you need to make your own order form with the AidaForm service. Now you know how to create a payment form and improve your business efficiency.
How to Make an Order Form Match Your Requirements
Now that you know how to make an order form for an online shop, let's talk more about the PayPal and Stripe fields. AidaForm offers flexible settings so you can easily adjust it to your business needs. Apart from adding a brief description and setting a currency, you can charge fixed amount, custom amount (set by a user) or offer a product selection. Let's address each payment type in detail.
Fixed Amount
This type of payment is useful if you're selling the same-type items at a fixed price: fixed participation fee, fixed membership fee, one-size or one-color goods, etc. For instance, you're organizing a cooking class. To register visitors, you can create a simple online form with payment and collect a fixed participation fee – just select the Fixed Amount option in the field's settings and specify the amount you want people to pay.
Custom Amount
If you want to create a charitable donation form, sell gift certificates or simply let people choose how much they want to pay for your product or service, use the Custom Amount option. This payment type gives customers an opportunity to pay any amount they like. To help people decide how much they should pay, you can set the suggested amount.
Product Selection
This payment type lets you set a specific price for each product option so that people could choose the one they are interested in. For example, if you're creating a ticket order form, you can offer a Go-As-You-Please Ticket, Day Ticket Saturday, Afternoon Ticket Saturday, etc. Another example is selling clothes – let your customers choose the size, color, designs, etc. By the way, you can use our t-shirt order form sample – it already includes such fields as Color, Size, Design, Quantity, etc.