The AidaForm Quiz Creator: How to Create a Quiz for Learning or Lead Generation
Trivia quizzes are as popular as ever on social networks. Create your own quiz online to generate leads and traffic to your website. Make it fun, add pictures, engage your audiences on social networks, and go viral if your quiz results screens are creative enough for people to share online.
Online quizzes are not just a marketing tool, they're also great for distance learning: easy for teachers to set up as final tests and convenient for students to take.
Whatever it is you want to create an online quiz for, adopting an AidaForm online quiz sample is simple and requires no programming skills. Read our guide and find out how to create a quiz in AidaForm.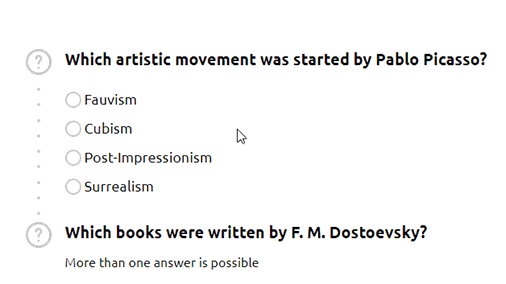 Create Your Own Quiz in AidaForm in 5 Steps
Create an AidaForm Account
To create your own quiz, you'll need to register an AidaForm account. Click
Sign Up
to register for free or
Log In
if you already have one. Please note that the quiz features require an Expert subscription, though.
View pricing
.
Choose a Quiz Template or Start Blank
After you log in, click Create New Form in your member's area. From here, choose one of the two options:
Select Start Blank if you want to create a custom quiz from scratch. It'll work best if there is no similar ready-made quiz in our gallery.
Start with a ready-made sample quiz. Does your quiz have a specific topic? Check out our quiz examples in the template gallery, import the sample you want and edit it in the Form Builder.
Design the Interactive Quiz Behaviour
Before you set up your online quiz, think about the features that'll make your quiz fun and entertaining when people take it.
Use media for questions and results pages
Ordinary text questions are boring! Add an image or video to some questions using the Media File field. This way, it'll be more fun to switch from one question to the next.
Show the correct answer after each question
If you're creating an educational quiz, it's customary to give feedback after each question. Create separate pages that explain the right answer and also have some fun trivia. Even if the answer was wrong, be supportive and friendly!
AidaForm's online quiz creator lets you use Logic Jumps to customize page navigation depending on whether the answer to the question was correct or not.
Set up the results pages for different total scores
Use the Score Display field to show participants how well they did. Take full advantage of custom 'Thank You' page features:
Add a motivational message for those whose results weren't perfect.
Praise those who aced the test, they'll be happy.
Suggest taking your other quizzes or sharing the results of this one on social networks.
Create a quiz from scratch! It may not look like the easiest task ever, but AidaForm is here to help! Just read our detailed instructions on how to set up a quiz.
Publish and Share Your Quiz
Before publishing your quiz, take it yourself a few times and try to get all possible scores to make sure it works correctly. You can use the Preview option for that. Logic Jumps are an advanced form mechanic, so double-checking won't hurt :)
Now that you're sure everything is working correctly, go to the Publish tab and switch the Published toggle to ON. Now, your form is online and available for sharing. Copy the form URL to share on social networks or add the embed code directly to your website.
3 Ways to Use Online Quizzes for Marketing
Make Visitors Stay on Your Website Longer
Optimizing your website for search engines is all about how useful your website is to visitors. The time people spend on your website is of the important parameters that indicate that your site is indeed useful. Embedding a fun AidaForm quiz on your website can help with that. People who take that quiz will stay on the page longer and are more likely to navigate your website further – especially if you list more quizzes they can take or articles they might be interested in.
Generate Leads for Marketing Campaigns
Pique your audience's interest with a fun themed quiz that suits your brand personality and encourage people to join your mailing list after taking it. Insert a lead capture form before showing the quiz takers the results page. Throw in a freebie to motivate people to give their contact data to you. Be honest about what you're going to do with that information, like send infrequent messages about your brand or a weekly newsletter.
Go Viral on Social Networks
Making shareable results pages is key to creating a viral quiz that will spread across social networks like wildfire – and make more people learn about your brand in the process. The way you design your quiz should depend on your brand identity, but there are a few general tips for great results pages. Use pictures that are worth sharing – these are going to attract attention to the post on social networks, where other people can see and take your quiz. Be positive and upbeat: positive messages promote sharing far better than any other. The interaction with the audience should not end at the results page. Don't forget to include a call to action – suggest sharing the results on Facebook or Twitter.




Links You May Find Interesting