Trivia Maker by AidaForm: Create Trivia Games from Scratch or Use Trivia Templates
Trivia games are a great helping hand both for teachers planning their classroom activities and marketing specialists looking for new ways to capture the attention of prospect clients online. Trivia quizzes make checking knowledge a real competition and fun! What's more, trivia games can generate quality leads and prospective customers.
In AidaForm Trivia Creator, you can make your own trivia games for educational and marketing purposes in just minutes. Choose from multiple- and picture-choice question fields, use video and audio content to stand out and set custom score calculations to create the trivia game you have in mind! Online Trivia Maker by AidaForm is a one-stop solution to create quizzes, and collect and store answers.
Trivia Templates to Get Inspiration and Use as Examples
In AidaForm, you can create online trivia games from scratch by adding quiz elements of your choice to the blank form, or you can add a ready-to-use trivia example to your AidaForm account and customize it for your needs.
Free trivia templates let you collect answers and manually check right and wrong answers. To automatically calculate the resulting score and use custom logic on your quiz, you will need to upgrade your account to an Expert or Ultimate plan.
Make Your Own Trivia Game in AidaForm
Add Fun Questions and Set Up Calculations
Add multiple choice fields with text or picture options to your trivia test and make up catchy questions. Ask trivia takers to choose the right answers for some questions and to find the only wrong answer for other questions. Make it as interesting as possible! Use the Calculation and Formula fields to add up the final score.
With AidaForm's simple drag-and-drop interface, you can build a trivia game in minutes and without any programming skills!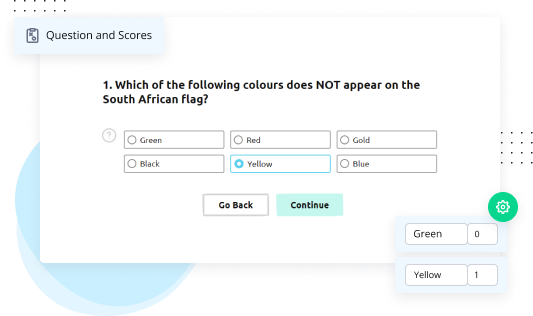 Make Your Quiz Conversational and Interactive
When answering trivia questions online, people expect to learn right away if their answer is correct. Here are some tricks to keep your respondents involved:
Use conditional logic and create separate trivia pages explaining correct answers and commenting on incorrect answers.
Use cheering and celebration GIFs to support your respondents.
Add the final score and personal recommendations on the custom 'Thank You' page.
If you would like to use a free version of the AidaForm Trivia Game Creator, please note: conditional logic and custom 'Thank You' pages are only available in Expert and Ultimate accounts. It's possible to create a basic trivia quiz using a free account, but you'll need to manually calculate the score after all answers are submitted.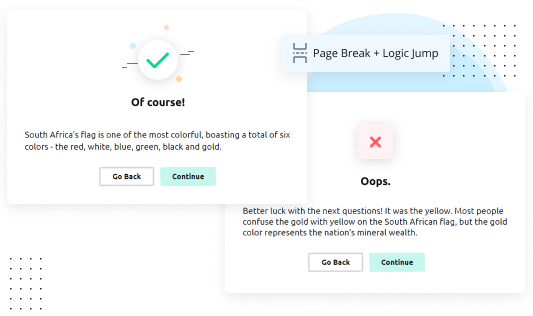 Analyze Results and Process Leads
All the data submitted via trivia quiz forms is safely stored in the Results section of your AidaForm account and is accessible to manage and download any time you need. What is more, you can:
Set up Zapier and Google Sheets integrations to automatically transfer leads' contact data to the documents and platforms you use.
Analyze your trivia quiz statistics in the Response Summary section to see which questions were the most difficult for your respondents and which knowledge needs reviewing.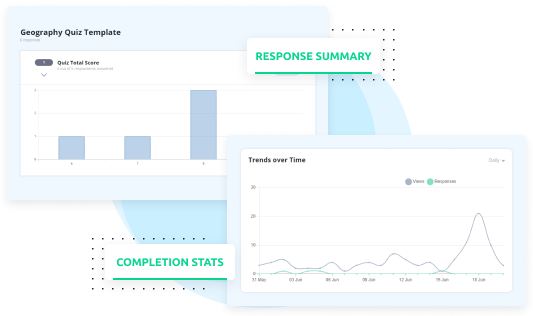 How Online Trivia Quizzes Help Generate Leads
Make online trivia quizzes an element of your social media activity
Offer your subscribers new trivia quizzes on a regular basis, keep them waiting for fun questions on trendy topics to challenge them and make them feel up-to-date. This is a great way to build a loyal audience and returning visitors!
Convert trivia game takers into leads
Trivia quizzes are not only an excellent educational and entertainment tool, but also a way to show your level of expertise in a particular field. Simply combine your trivia questions with a contact form and let your visitors send their questions to you to get more information on the topic of interest.
An example of a trivia quiz that can be combined with a contact form:
Suppose, you are working for a travel agency and would like to promote special offers for tours to Argentina. To support your promo activities, you can build a trivia game on the topic 10 Amazing Facts About Argentina you did not know! Browse the internet for fun facts about Argentina and use them to make up multiple-choice questions like this one:
Government officials in the town of Rosario banned parents from naming their children a particular name. What is the name?
The page with the final score result can also provide the information about the promoted tour and invite your quiz takers to fill in contact fields and send you any questions they may have.
Be creative and we bet your website and social media visitor will not pass by your trivia quizzes on fashion, music, arts, sports and other subjects!
Step-by-Step Guide: How to Make a Trivia Game in the AidaForm Trivia Generator
The easiest way to start is to use one of the ready-to-use trivia templates that you find on the page above. Simply click the Use Template button to add a trivia quiz in your AidaForm account. If you don't have an AidaForm account yet, no problem: the registration process will take you a few minutes and does not require entering payment details. Once your registration is complete, the selected trivia template will be opened in your account's Builder section and ready for editing.



In AidaForm, you can customize all content and change the look and feel of your trivia quiz. Add and delete question fields, change colors and fonts and customize the calculations of the result the way you need.



Once you've finalized your trivia quiz, you need to publish it to make it available to anyone on the internet. Go to the Publish section and turn ON the Form status setting with one click of the mouse. It's that easy! Now you can copy the URL of your quiz and share it online wherever you want. And even more: you can copy a ready-made embed code to make a trivia quiz a part of your website.


The AidaForm team is happy to answer all your questions and help you create your virtual trivia games! Drop us a line and we'll be back to help you right away!
Links You May Find Interesting