Create Online Registration Forms with AidaForm
If you're organizing teams, webinars, or events, you know how great it is when everything runs smoothly. That's where a good registration form can save you loads of effort: you'll know how many attendees to expect, what their special requirements, age, and occupations are – all the things you need to plan everything ahead.
When we say online registration form, we mean every form that people use to register for an event, service, club, or another activity you organize.
The key to building an online registration form for the website about your event is making it as simple and appealing as possible so people can easily finish it. AidaForm has a registration form builder that will help you do just that and more: share your form and manage registrations easily in the same framework. Create your online registration form with easy drag-and-drop blocks and sell out your events in no time.
4 Steps to Getting Your Registration Form Online in AidaForm
1
Create a Registration Form
In the AidaForm builder, you can start with a blank template, then drag-and-drop the fields you need: attendee's name, email, phone, and address. Then ask whatever else you need for your workshop, team entry, or webinar using multiple choice blocks or free text fields. Include payment collection if you're selling tickets or gather participation fees. AidaForm automatically suggests optimal error messages, field validation, and even fill-out hints. You can change the default texts if you like, too.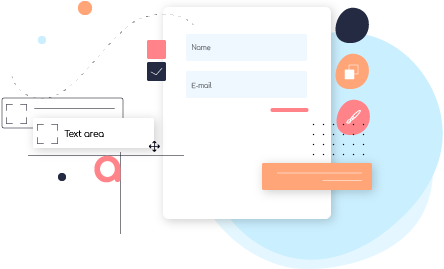 2
Make Design Adjustments
When you're offering a website registration form for customers, events, and activities, make it a wholesome experience for those who register: choose and style the design theme to match your website and add your logo. You can even pick a background image to match the theme of your event for extra flair. Each design theme in the AidaForm registration form creator is smart and adjusts itself seamlessly to the form contents.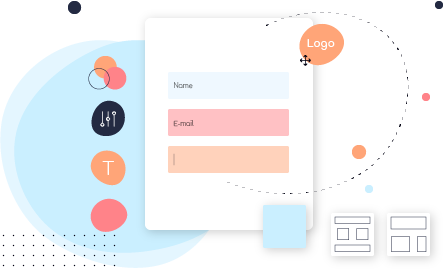 3
Share the Registration Form
AidaForm's online registration form builder has all you need to make your form available online. You can copy a direct link and paste on your website, send via email, or share on social networks. Alternatively, you can export an automatically generated embed code and insert the online registration form onto a page of your website to provide a smooth user experience. It doesn't matter where the registration was completed, you'll find all the entries in your member's area at AidaForm.com – safe and sound.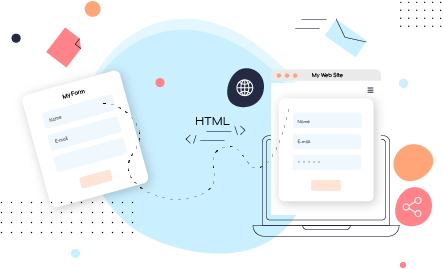 Once you've published your registration form online, AidaForm helps you with submissions: you'll get a notification email every time someone submits a registration form so you won't miss anything. View summaries of all submissions in your member's area and plan your events ahead. Put participants in the right mood with newsletters: export their emails to MailChimp to form a dedicated database. Save registrations as Google or Excel sheets to organize catering, seats, or learning materials, and make your activity a success.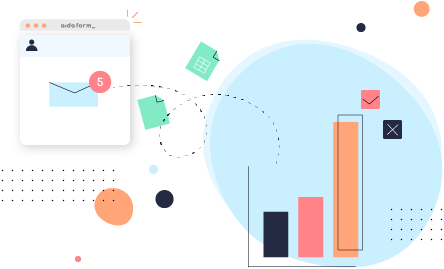 Is Participation Paid? Collect Ticket Fees!
In the AidaForm registration form builder, you'll be able to set up payment collection, if your registrations have fees or additional paid services. Make an online registration form with a PayPal block and securely process ticket fees and other payments.
Safe PayPal payment processing
User-defined and fixed amounts to collect
No sensitive information is processed through AidaForm
Find out how to create an online registration form with payments.
3 Best Practices for Building Easy Registration Forms
1
Only Ask for the Information You Need
The fewer questions you ask, the more people are likely to finish the form for registration to your event or vendor list. Only ask for things you really need to know to organize the event or provide the service – it'll make your registration form easy and friction-free.

2
Explain How You Use the Data You Collect
People are cautious about giving their personal information and will go away if they feel their privacy might be compromised. Let them know what you need sensitive data like age or allergies for. Make a secure online registration form to gain participants' trust – you'll receive many more submissions this way. If you want to gather more information to ensure that your event is a success, let your customers know the reasons.

3
Make Sure the Flow is Logical
A registration form includes a number of required fields, like the participants' personal data (name, email, phone number, sometimes, address) – these should normally be put first. Everything else should follow a logical sequence depending on the purpose of the registration. Try to put optional items at the bottom of the form so that the user provides the required information first.
AidaForm Registration Form Builder
AidaForm is not just a convenient registration form generator, it's a complete service for form creation and publishing, as well as response management. Store and review submissions securely in the member's area or export responses to Google Sheets for segmenting and analysis.

Create registration forms, polls, surveys, and order forms with mobile-ready conversational elements that make your online forms fun and easy to fill out. AidaForm provides all the code and takes care of form usability so you can boost your business instead of learning how to create forms from scratch.

Contact
Your contact form page is where visitors become customers so make sure you're easy to reach with user-friendly online contact forms. Gather contacts of your visitors to form a profitable relationship.

Feedback
The best way to offer a great service is listening to feedback! Listening to what your visitors or customers have to say about your service, club, or sports event helps you get better at what you do. Make appealing and efficient feedback forms with rating gauges, open and multiple choice questions with AidaForm.

Order Form
If you're offering goods and services on your website, set up orders and payment collection through secure online forms – it'll make doing business online so much easier. To help you create order forms with payment options, AidaForm integrates with PayPal, the most popular service for money transfers and payment processing.