Create Awesome Online Surveys with the Free
Survey Maker by AidaForm
Online surveys help gathering information for dozens of purposes, including market research, feedback collection, and measuring customer satisfaction. No matter what kind of information you want to gather – rating scores, multiple-choice answers or long text comments – the AidaForm's free survey creator helps you easily collect and evaluate survey form responses.
Check out AidaForm's most popular ready-made surveys. These mobile-ready, engaging surveys already include ratings, matrixes, sliders, and other scale fields. Just choose a template that suits your needs and your survey will be ready in minutes!
Why Choose the AidaForm Online Survey Tool
Free Unlimited Questions and Surveys
Build as many survey forms as you need and add as many questions as you like. AidaForm doesn't limit users even on a Free plan.
Conversational or Traditional Design
Create both traditional and conversational online surveys. They're all stylish, mobile friendly, and so easy to customize the way you want!
Video & Audio Fields
In AidaForm, you can ask video questions and get text, video, and audio answers. Gather limitless insights across all media!
DPA and GDPR-compliance
Add a GDPR statement to your survey, and collect consent from respondents using a special checkbox and e-signature if required.
1000 Responses per Month with the Starter Account
AidaForm offers 1000 submissions for only $10/month. This is by far the best price you can find on the survey software market.
Excellent Tool for Students and Teachers
Create quick surveys, interactive tests and quizzes. Need an educational discount? Contact us.
How to Create a Survey in 4 Steps
Step 1
Build Your Own Survey Form
AidaForm offers fully customizable free surveys: fill them with as many questions as you like! Insert the responsive elements every survey needs, including multiple choice questions, opinion scales, animated ratings and sliders, and matrixes. For detailed feedback or comments, use the Media Answer field, where respondents can enter text replies, or record their video or audio answers.
You won't need to code anything – AidaForm's survey generator lets you select ready-made blocks and drag them to your form in a visual editor.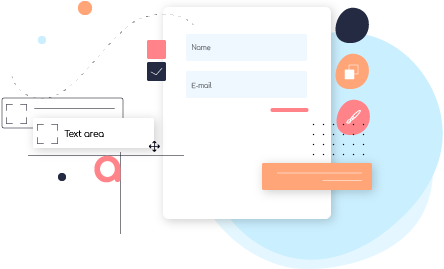 Step 2
Customize the Survey Design
Depending on the tone and purpose of your survey, select a minimalistic design or go with brighter colors. AidaForm's free survey builder offers ready-made design themes to make sure all your adjustments look good with every block you add, even if you have zero web design experience!
If you want the survey to match your website, explore the endless possibilities of the Form Designer: custom colors, fonts, button shapes and much more. Check the Set Up -> Traits section for even more options like Conversational UI and Key Bindings. With these settings, your survey will look 100% professional!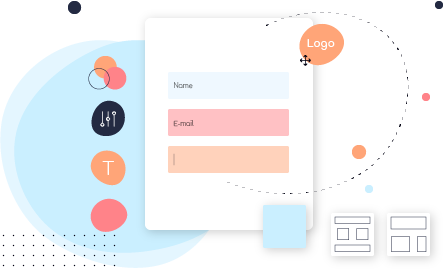 Step 3
Publish Your Survey and Gather Responses
There are a variety of ways to share the form you created in the AidaForm survey app. The easiest option is to get a link to your survey and publish it on social networks or email it across your database. Or, AidaForm can generate an HTML code to paste on to your website directly if you wish.
Wherever users submit their answers – via email, social networks, or on your website – you'll see all submissions in your member's area at AidaForm. Go to the Set Up section if you want to receive email notifications about new responses or send auto-replies to your respondents after they submit the form.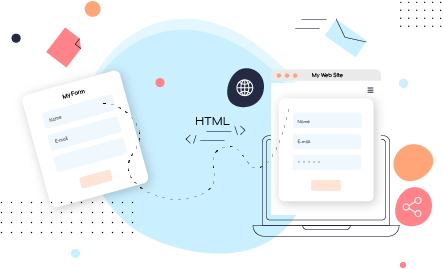 Step 4
Analyze and Evaluate Data
While getting people to participate in your survey is, without a doubt, important, it's crucial to evaluate results quickly and efficiently. Our online survey platform lets you do that through built-in reports and third party integrations:
View Completion Stats and Response Summary reports to gain insights and make business decisions based on the data you collect.
Export data sheets to Excel or Google Sheets for further research and reference.
Use Zapier integrations to send response data to plenty of other services, including Mailchimp and Trello.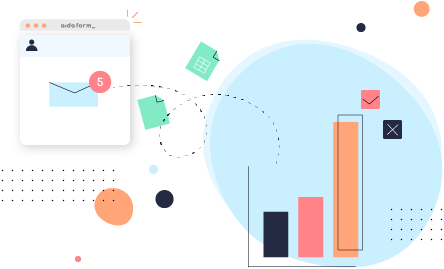 The 4 Hows of a Successful Online Survey
How You Define Your Audience
Plan your survey with a target audience mind. Of course, you can simply share your survey link on the web and hope for the best, but it is much more effective to define your audience and tailor questions specifically for them. If you already have a customer database, analyze it to better target your research.
Want to gather information from your existing customers? Or is it new potential markets you're looking for. The key to better data is defining who you need the data from. When you know that, the quality of information you collect increases sharply.
How You Write Questions for Your Survey
An online survey maker can help you build any kind of survey form, but it cannot help you decide what to ask and what language to choose. Surely, there are a ton of things you want to learn about your customers, but simply putting them into one big survey isn't enough.
Think instead about what answers can be used as actionable feedback, for example:
Our customers want us to offer catering during full-day events.
Or, think about how to confirm a hypothesis and formulate your questions accordingly. Here is an example of a hypothesis:
Customers' age is/is not correlated to the type of backpacks they prefer to buy from your online store.
The quality of the data also depends on how you write. Here are a few best practices:
Keep the language simple and clear
Be as specific as possible to get precise answers
Break big concepts into multiple questions – you cannot gauge customer satisfaction in a single question
Avoid leading questions – if you let your opinion reflect in the question it will compromise survey results
Use scales and ratings to analyze correlations better
What are the typical survey questions? What else is there to keep in mind? Read the dedicated articles at AidaForm Blog – it's full of great ideas and samples.
How You Conduct Your Survey
Putting your survey online is easy – AidaForm's free survey maker lets you share the direct link to social networks, include it in emails. Before you do that, there are a few things to check to make sure the survey runs smoothly.
After you create your survey and before you make it available to your audience, do a couple of test runs on your friends or colleagues to make sure your questions and survey structure are clear and easy to understand, the logic checks out and it doesn't take too long to complete.
Once you've done your pre-testing, think where people are going to take your survey. It's a simple survey, after all, and almost half of the world's internet traffic is now mobile. According to multiple studies, around 30% of online surveys are taken on smartphones and tablets. AidaForm makes sure your survey form looks good on any device, so you don't have to worry about that too much. Just avoid wordy sentences that will take up half of a smartphone's screen.
Finally, schedule the whole research process in advance. Collecting responses takes some time even online: don't let data grow old or get lost in the process. Make a timeline that includes not just the deployment, but also collection time frames, analysis, and report building.
How You Get People to Respond
First, make sure you have not made any "obvious" mistakes that can scare off respondents:
Always choose an anonymous survey. Make sure you don't collect contact information unless it's absolutely necessary. Let people know at the beginning that the survey is anonymous – this will immediately increase their comfort level.
Try to keep all your surveys short. Go through the list of questions again and check: is this question strictly necessary, can it not be omitted? Normally, ten questions is the optimal length for a typical quick survey.
Motivating people to answer you isn't easy. As long as they have no incentive to do it, they won't, so show them why completing your free online survey is worth their time and attention. Sometimes, asking nicely is enough, especially if you're addressing an active and friendly community who appreciates what you do. Alternatively, you can offer a small present or a freebie that will be attractive to your audience: an Amazon voucher, a discount, or a chance to win a prize.
When asking potential respondents to participate in your research, be positive and explain how the participants will help you by completing the survey, and use a clear call to action phrase like, "Start the survey now" or "Participate today for a chance to win an iPhone 12."