Make Your Own Quiz with the AidaForm Online Quiz Maker
Online quizzes are indispensable for almost every project. They are a versatile, powerful tool that you can use to entertain, keep engaged, educate, assess knowledge and competency, and so much more!
Creating quizzes with AidaForm is super-easy. What is more, the quizzes look and work great on any device and platform. Other advantages of the Aidaform quiz maker are:
Your quiz-takers see, right away, the correct answers, their final score and customised, motivating messages.

You can access quiz statistics from inside your user account to gain an understanding of whether a quiz was a success and which questions were most difficult or need improvement.
Multiple-Choice Quiz Maker
Multiple-choice quizzes are probably the most widely used type of online quizzes. They are quick and easy to create and to engage in, and they interact with quiz takers regarding their achievements. This type of quiz is ideal to check general levels of understanding during training sessions or the acquisition of factual information.

With AidaForm, you can create multiple-choice questions using text, pictures, gif images or audio, and allow one or multiple answers to the given question.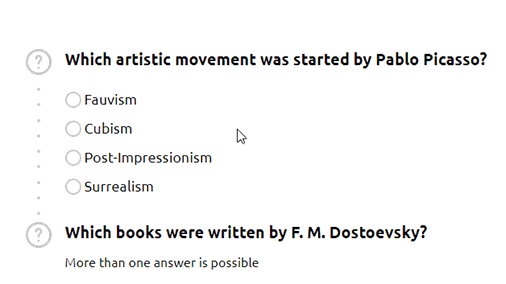 Online Quizzes Help to Grow Your Business
1

Use online quizzes as part of your social media strategy

Educate and entertain your subscribers, offer your audience new quizzes regularly, make them wait for something new and challenging: this will keep your audience engaged and active.

2

Get even more online leads

Combine a personality quiz with a lead generation form, and you will get even more online leads: this powerful combination allows you to qualify each user on the basis of their quiz results and use the right individual appeal. Create quizzes that people will want to share: online quizzes have a good potential for going viral.

As an example, travel agencies and travel blogs may profit from the "how well do you know Hawaii?" type of quiz questions including "what are the three main islands in Hawaii?" and "how many letters does the Hawaiian alphabet have?". Some visitors may appreciate a good old "what type of traveller are you?" quiz that may ask questions like this:

Imagine that it's your last evening on vacation, you:
Listen to the waves of the Mediterranean sea and breathe in its breeze.
Enjoy a midnight walk along the streets of Rome.
Go to the most-talked about party in Berlin.
Sip wine in a Parisian cafe.
Visitors to beauty blogs will not pass by a "how well do you know fashion history?" quiz. Music, geography or the history of Bitcoin, there are no boundaries to the range of topics and themes that you can use when making up quizzes.

3

Online Quizzes Help to Generate Subscribers and Improve SEO

Online quizzes placed on your website pages help to improve your website's bounce rate - reducing the number of visitors who leave your website without taking any action. Your bounce rate, as well as the length of time that visitors spend on your website, are important SEO criteria, and they must not be overlooked.

Also, consider using online quizzes as additional motivators for your visitors to subscribe to your email lists: offer new quizzes on the topics of your customers' interests every week and get new subscribers.
Personality Quiz Maker
This type of quiz does not deal with right and wrong answers. Each user gets an overall result at the end of the quiz. The result is figured out on the basis of how the quiz-takers responded. For example, having answered all questions of the "what is your management style?" personality test, the user finds out which leadership style matches their answers.

Some other noteworthy examples are:
Product suggestions ("Which present should I buy for her/him?")
Business consultants and coaches ("'How stressed are you at work?")
Audience entertainment ("What movie character are you?")
How can you create your own efficient personality quiz? Think or 8 to 10 fresh questions, use positive, witty language when formulating quiz results, and let your quiz takers read something significant about their personality. As a reward, your visitors will share their results on social media and attract new visitors to your quiz and website.
Grammar and Vocabulary Quiz Maker
Grammar quizzes are a great tool to figure out which areas of grammar need more reviewing and exercising. Grammar tests may be quite long and contain dozens of multiple-choice questions covering various fields of a language's grammar: tenses, conditionals, passive voice, indirect speech, and so on. Questions get harder as quiz-takers progress. Upon completion of the test, respondents see the total number of correct answers and recommendations; which areas of grammar must be mustered more painstakingly.

With the AidaForm grammar and vocabulary quiz maker you will make your own quiz in a matter of minutes and you will be able to review all results and responses from inside your AidaForm user account.