AidaForm Online Test Maker
Online tests are getting more and more popular and for good reason. Professional training sessions, recruiting interviews, offline and online education all benefit from the use of this powerful instrument. Not only are online tests an effective way to train and control a level of knowledge, they are also a great way to smartly entertain your website visitors!
Here are two reasons why you should use the AidaForm test maker to create online tests and exams:
It takes just several minutes to create tests within your AidaForm account. Handy ready-made multiple-choice questions and short answer fields are at your disposal. No coding or advanced settings are required.

Processing and keeping online test results with AidaForm has never been easier: all responses are saved and stored in your user account and available for download in pdf, xls or csv formats.
Multiple Choice Test Maker
Multiple-choice questions are the most common constituent of online tests. Respondents select the correct answers from a predefined list. This type of question is ideally suited to the creation of vocabulary or spelling tests.

By using AidaForm you will quickly create multiple-choice tests using text, pictures or GIF media. Flexible settings allow you to define whether single or multiple answers are possible for a question.

"True/False" questions, which are also very often seen in simple tests and quizzes, are in fact a type of multiple-choice questionnaire. To create this kind of question in AidaForm takes just some minutes.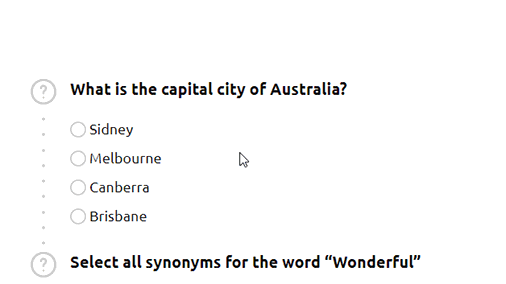 Vocabulary Test Maker
When creating a vocabulary test, it's important to check how well students have grasped the meaning of the word, its spelling and pronunciation, and the word collocation and use.

The following patterns will allow you to create an effective and engaging online vocabulary test:

1

Choose the right definition or image of the word

Students see the word and they have to choose the right meaning of the word from the list of multiple choices. For young students and beginners, you may use the simpler version of the pattern: students see the word and choose the picture that corresponds to the notion.

Example: What is the meaning of the word "success"?
The achieving of the results wanted or hoped for.
The act of stopping something happening, operating, etc. for a period of time.
2

Listen to the audio and choose a corresponding word or image

This is a nice way to check if the student knows the pronunciation of the word. More advanced students will surely appreciate more complicated questions utilising homophones.

For example, students listen to the sentence "I am content with his speech" and have to check which one of the given choices explains the meaning of the sentence:
I understand everything that he is saying.
I am satisfied with his speech.
I wrote the content of his speech.
He speaks about me.
3

Fill in the gaps to test word use and word collocation

This is a great way to check if students know how to use the learnt word correctly. Students read a sentence with a blank field and have to choose the word, or words, that fill the gap in the sentence. Where appropriate, you can combine checking the word use with checking grammar.

Example: Tom ……. a better grade ……. I have
have - than
has - than
have - then
has - then
4

Synonyms and antonyms

Multiple choices providing one, or several, correct answers for a question to find synonyms or antonyms of the learnt word are fun and also an effective way to enlarge students' vocabulary.

Example: Which is a synonym of the word "attribute"?
Class
Quality
Statement
Improvement
Online Exam Builder
Build short tests to assess the level of the student's knowledge before, during and after educational sessions. Your created online exams will display and work perfectly on any mobile device. All collected answers will be available from within the response section of your AidaForm account.