AidaForm Online Test Maker
Online test software is getting more and more popular and for good reason. Professional training sessions, recruiting interviews, offline and online education all benefit from the use of online tests. Not only are online tests an effective way to train and determine a level of knowledge, they are also a great tool to provide entertainment to website visitors and to get more prospective customers!

It takes just several minutes to create tests in the AidaForm test builder: multiple-choice questions, scales, ratings and many other ready-made elements are at your disposal, as well as dozens of test templates to start with! The tests are optimised for use on any device and require no coding or advanced settings.
Why Choose the AidaForm Test Creator
Any Kind of Tests
Whether educating or entertaining, in AidaForm, you can create the test you need: to assess personality and knowledge, or to run a fun test.
Conversational & Traditional Design
Create the atmosphere of a conversation to involve and engage your students, colleagues and friends.
Show Correct Answers and Trivia
Do you use tests as a training tool? Show test takers if their answer was correct or not right away. Add some trivia to educate and entertain people.
Automatic Grades
Use conditional logic to set up your own grading criteria and automatically grade test results.
Personalized Result Pages
Create multiple test result pages and custom 'Thank you' pages based on what score your test taker gets.
Save results as PDF/ Excel/ CSV files
All test results are stored in your AidaForm account. You can view, download and print results any time.
Create Online Tests in the Flexible, Easy-to-Use, No Code AidaForm Test Generator
Use the Multiple Choice Test Maker to Easily Make Your Own Test
Multiple choice questions are the most common type in online tests where respondents select the correct answers from a predefined list. This type of question is ideally suited for almost all kinds of educational and training tests.

AidaForm offers an easy test maker. You will quickly create multiple-choice tests using text, pictures or GIF media. Flexible settings allow you to define whether single or multiple answers are possible for a question.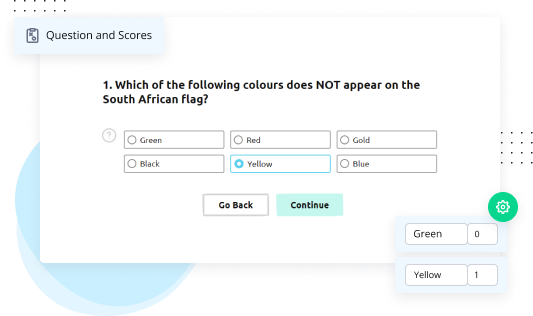 Custom Interactive Tests: Train and Educate Your Way
In AidaForm, we love diversity and flexibility. It will be entirely your decision whether your test displays a correct answer for every single question or if it will not show correct answers at all. Our test templates are fully customizable: you can add and remove images, edit questions and answers, and set up conditional logic to display custom test results and 'Thank you' pages.

Would you like to distribute evaluation tests anonymously, but still be able to track results back to the respondent? In AidaForm, you can do this using Query Parameter Hidden Fields.

Please note that conditional logic, automatic grading and custom 'Thank You' pages are only available in paid AidaForm accounts. You can still create a basic multiple-choice test using a free test maker, but you'll need to grade answers manually and no custom redirects will be possible.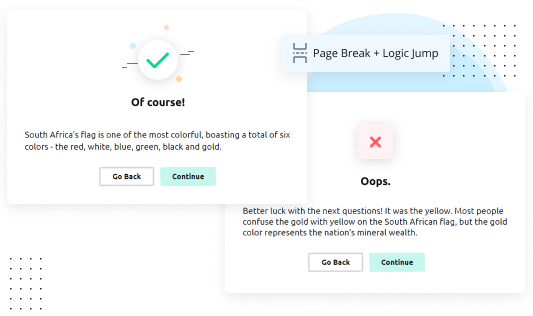 Save and Analyze Your Test Results
Security is one of our priorities! AidaForm securely collects and stores test results in your personal account. You can view and save a report for each respondent individually or download multiple results in the Excel, CSV, or PDF format.

Need more automation? Use direct Google Sheets integration to automatically transfer all test results to a specific spreadsheet. Or, explore AidaForm Zapier integrations to automate data processing.

Would you like to quickly identify which question turned out to be the trickiest for your students? Find it out in the Response Summary section, where you'll see test results as overview charts for each question separately.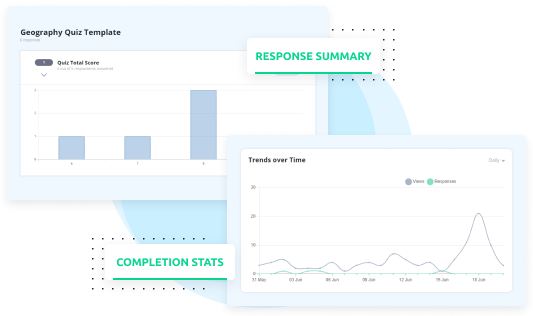 Generate Leads with Personality, Evaluation and Fun Tests
People love taking personality tests and other fun tests. Such tests educate and entertain at the same time and they are ideally suited to getting your potential customers' attention.

No matter what business or project you run, you can always make your own test, be it fun or serious, that will engage people who are interested in your topic. Be creative! Show your expertise and invite your respondents to contact you to learn more.

AidaForm users love creating tests and quizzes and we love to help them collect hot leads.
Vocabulary Test Maker
When creating a vocabulary test, it's important to check how well students have grasped the meaning of the word, its spelling and pronunciation, and the word collocation and use.

The following patterns will allow you to create an effective and engaging online vocabulary test:

1

Choose the right definition or image of the word

Students see the word and they have to choose the right meaning of the word from the list of multiple choices. For young students and beginners, you may use the simpler version of the pattern: students see the word and choose the picture that corresponds to the notion.

Example: What is the meaning of the word "success"?
The achieving of the results wanted or hoped for.
The act of stopping something happening, operating, etc. for a period of time.
2

Listen to the audio and choose a corresponding word or image

This is a nice way to check if the student knows the pronunciation of the word. More advanced students will surely appreciate more complicated questions utilising homophones.

For example, students listen to the sentence "I am content with his speech" and have to check which one of the given choices explains the meaning of the sentence:
I understand everything that he is saying.
I am satisfied with his speech.
I wrote the content of his speech.
He speaks about me.
3

Fill in the gaps to test word use and word collocation

This is a great way to check if students know how to use the learnt word correctly. Students read a sentence with a blank field and have to choose the word, or words, that fill the gap in the sentence. Where appropriate, you can combine checking the word use with checking grammar.

Example: Tom ……. a better grade ……. I have
have - than
has - than
have - then
has - then
4

Synonyms and antonyms

Multiple choices providing one, or several, correct answers for a question to find synonyms or antonyms of the learnt word are fun and also an effective way to enlarge students' vocabulary.

Example: Which is a synonym of the word "attribute"?
Class
Quality
Statement
Improvement
Online Exam Builder
Build short tests to assess the level of the student's knowledge before, during and after educational sessions. Your created online exams will display and work perfectly on any mobile device. All collected answers will be available from within the response section of your AidaForm account.