Multiple Choice Quiz Maker
Quizzes are exciting, and it's a rare person who skips taking a quiz when it appeals to their interests! Multiple choice quizzes and tests ask questions or provide statements for which a respondent must choose one or several ready-made choices, which can be text or pictures.
With AidaForm's no-code multiple choice test generator, you can easily create your own multiple choice quizzes and tests and use them for business or educational activities.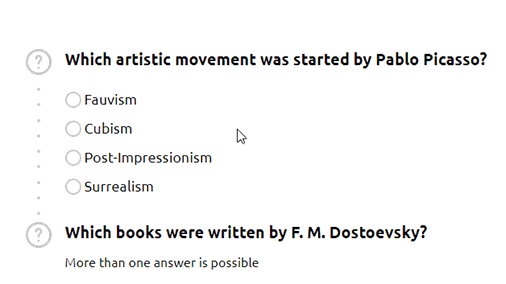 Educate, Check Knowledge and Entertain Your Audience
Knowledge quizzes have correct and incorrect answers and participants can learn how well they did after every question, read more related facts and get a final score. This type of quiz works great in education and for onboarding purposes.
What is more, you can convert any quiz into a lead generation form simply by adding the Name and Email fields before or after the page with the final score. See AidaForm's multiple choice test templates below. Add them to your AidaForm account to review all settings and customize them for your needs.
Provide Recommendations on the Basis of Respondents' Answers and Get More Leads
Psychological and other types of assessment tests can also use multiple choice questions to calculate a final score on the basis of the answers given by a respondent. However, this type of test is designed to make recommendations for different groups based on the total score rather than correct and incorrect answers.
The what-suits-you-better quizzes are typical examples of the multiple choice assessment test that is widely used as an online lead generation tool. Does it sound like what you are looking for? Add our Wine Quiz or the What Is Your Style multiple choice test sample to your AidaForm account and use them as an easy starting point to create your own quiz.
Multiple Choice Test Templates
In the AidaForm multiple choice test maker, you can start creating a test from scratch by using the detailed instructions, or use one of the ready-made examples. To save you time, we created dozens of multiple choice quiz templates that you can add to your AidaForm account with one click of the mouse to customize text, calculations and design. Click the Use Template button to open the content of the test in your account ready for further editing.
Create a Multiple Choice Test for Education and Lead Generation
No matter what kind of multiple choice test you need — a trivia quiz or an assessment test — AidaForm helps you create a test with your custom flow, design and lead generation approaches!
The heart of every quiz game is the questions and the score that every answer adds to the total. Don't make your test too long unless you are conducting scientific research. Ten questions per multiple choice test is a fair start to attract respondents' attention and not scare them away! Having finished with questions and scores, you need to decide on the score ranges to group your respondents according to their total score and write appealing text for the result pages.
Does making a test sound like hard work? It definitely requires some preliminary work, but using tests and quizzes as lead generation forms lets you stand out of competition and pays out with higher conversion!
How to Make a Multiple Choice Quiz with AidaForm Software
Click the Use Template button next to the quiz that you like. AidaForm will ask you to log into your AidaForm account and then automatically add the chosen template to the list of existing forms. It's not a problem if you do not have a registered AidaForm account yet: the registration takes only a few minutes and does not require entering any payment details.
After the template is added to your AidaForm account, it automatically opens in the intuitive Builder section where you can customize the quiz the way you like!* You can edit all questions and answers, set different scores and even completely change the way the score is calculated. Would you like to make the quiz look like a part of your website? The Designer panel has everything you need to do this: you can change your quiz's fonts, colors and much more!
When you are satisfied with the quiz that you created, all you need to do is make your quiz available online. Turn ON the Publish setting and copy the URL that AidaForm generates automatically for you! Are you going to place the quiz on your website? Then copy the ready-to-use embed HTML-code to paste it on your website building platform.
* The functionality that allows you to create a multiple choice quiz that calculates the total score belongs to the Expert plan. If you are on a Free plan, you can add quiz templates to your account and view their settings, but your published quizzes will not work correctly.
Do you like what you've seen so far and want to try creating your quiz before you commit to an Expert subscription? Contact AidaForm to request a free two-week trial.
Links You May Find Interesting