Create a Customer Satisfaction Survey with AidaForm and Start Building Client Loyalty
Today's consumers expect more from their favorite brands and companies. With so many options available, the company that takes the extra step in engaging with their customers can easily stand out and help clients become family. One of the best ways to engage with your clients is with a customer satisfaction survey.
Customer satisfaction surveys or questionnaires are a great way to help your most important stakeholders feel that they have a voice in the direction of their favorite company. By allowing customers to answer a couple of questions about services or products, your team can better understand what the ever-changing market is looking for. With the help of a simple survey, you can make updates to products, change services, or head in a brand new direction with the help of your customers.
If you are looking for an easy way to create a free customer satisfaction survey, AidaForm is the best choice. With several pre-made templates and an easy to learn interface, you will be creating successful surveys in seconds - with no coding required. Check out AidaForm's survey example templates to help inspire your own forms.
4-Step Guide: How to Create a Customer Satisfaction Survey in AidaForm
Are you ready to create a feedback form that will help you make your products and services better for your customers? Here are four quick steps you can take to build a customer satisfaction survey form based on AidaForm's ready-made templates:
Step 1
Compose Your Customer Satisfaction Survey
The first step is to draft and design your form. A great place to begin is by using one of AidaForm's free survey templates to help guide your process and give you inspiration. Once you have selected a template, you can then add, delete, or customize the fields using AidaForm's drag-and-drop interface.
Engage with your audience in different ways using various elements such as multiple-choice fields, ratings, scales, and text boxes. With no need to code, you can create your form, change things as needed, and update at any time.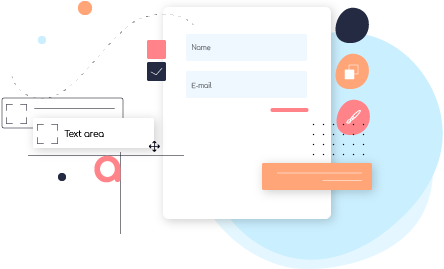 Step 2
Customize the Form Design
Once you are satisfied with how the form is built, customize further by adding color, branding, and other elements that make the customer survey unique to your company or organization. Add a logo and other style elements to make the form stand out, and choose between a
conversational
or classic layout, depending on your audience.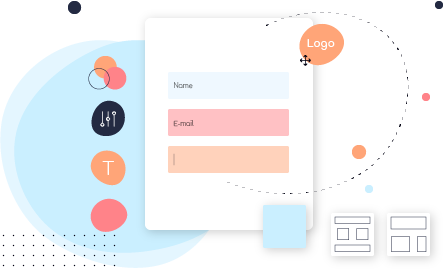 Step 3
Publish Your Satisfaction Survey
Satisfied with the final look and feel of your questionnaire, and ready to take the form live to your customers? Simply click on the Publish tab in the builder interface and toggle Publish to activate your brand new form.
To start gathering responses, AidaForm provides a direct web link that you can drop in an email, website, or social media channel. If you would like to embed the form directly into your website, simply copy the embed code provided and place in your website builder. No matter where you share your form, AidaForm's intuitive, real-time response system will notify you of each response that arrives. You can then review each response in your member's area.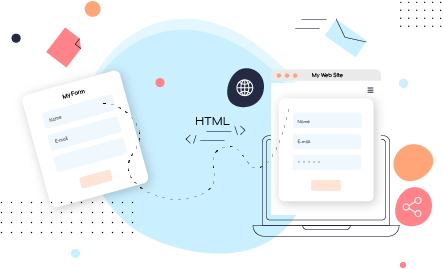 Step 4
Measure and Review Customer Feedback
Your final step is to collect, analyze, and utilize the data you have collected. Once responses start arriving, you can find a ton of helpful information within AidaForm's Response Summary interface. The summary allows you to filter responses and quickly find indicators, such as averages and medians, already calculated for you.
You can also export the full data to Excel and Google Sheets. With the complete set of data in front of you and your team, you can begin to respond and move ahead to your customer's needs and demands.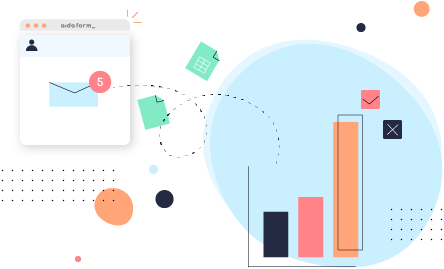 Tips from AidaForm: Creating an an Effective Customer Satisfaction Questionnaire that Gets Results
It is important to create a form that is easy to complete and engaging enough to convince customers to take action. Here are some steps to consider when setting out to build your customer survey:
Before you begin, ensure that you are headed in the right direction by
defining your purpose
for collecting information. What
scores
are you looking to measure?
Design the form with an eye for ease of use and engagement, including colors and branding. A satisfaction survey that is too long or unappealing won't garner the results you need to make informed decisions.
Define your audience and demographics that you desire to give feedback, and what channels you will use to send the form to them to complete. The more fine-tuned your audience, the better your data will be.
Determine the best time to launch your survey, and send it out to begin gathering responses. Evaluate completion rates and update the above steps as needed.
How to Utilize Customer Survey Results Effectively
Once you've collected your customer's opinions and feedback, it's time to analyze the results and take action. The first question your team should ask of the data is How does this information help us, and what does it call us to do next?

Every organization and company will have a unique way of using their survey results, but here are a few general tips to ensure a great experience for your team and your customers:


Recognize and bring value to your customers by sending them an automatic or personal thank you for taking the time to complete the survey.
Take time to read through each response with a neutral eye - noting the negative and positive responses without having an emotional response.
Respond first to the negative comments and recognize the response with a thank you and a promise to respond if needed.
Form a team to respond to any large-level issues that are damaging customer relationships or impeding organizational effectiveness.
Update your customers on changes or updates that are made from information gathered by the customer satisfaction questionnaire.
By ensuring that you are responding and engaging in a timely fashion, your customers will feel that their voices are heard and that their time is valued by you and your team - which is a great step toward building brand loyalty.
The Three Most Useful Customer Satisfaction Metrics
What are the most popular customer satisfaction surveys in use by top companies and organizations today? For analytics and marketing purposes, there are three types of data sets (or scores) that are tracked. Knowing which one your team needs to gather can help you create the perfect survey.

When you are looking to measure customer loyalty, consider creating a survey that looks at Net Promoter Score. These types of surveys are often built of scales or ranges that ask users to report how likely they are to refer or recommend your product or services to someone else.

By tracking NPS results, you can better see how much of the conversation space in your market is being taken up by your brand. If you have raving fans sharing your product without being incentivized, you are probably on the right track.

Customer Satisfaction Score (CSAT)

An easy way to capture how satisfied your current customers are is with a CSAT questionnaire. These surveys gather information on specific products and services, and whether or not the buyer was happy with what they purchased, and whether they would do so again. Whether using a simple "yes" or "no" answer format or something more fun such as a "happy face" to "sad face" scale, building questions that quickly gather CSAT statistics can help you get a snapshot of current customer fulfillment.

Customer Effort Score (CES)

One of the easiest ways to gain customer feedback is to simply find out how hard it was to get a customer from point A to point B in the process of using your product or service. The harder the process, the more likely a negative review will pop up online. By building questions with sliding scales or ranges that ask how easy or difficult it was to work with your company or team, you can gain insight into the amount of effort required to engage with your product and service. This can pay huge dividends to help your company make things easier for your customers - and increase your CES score.