Create a Contact Form in AidaForm and Make a Great First Impression on Your Users
Being in touch with your customers is what brings you new orders and feedback, and what grows your business. Create a clean self-explanatory website contact form that is easy and fun to fill out and you'll convert visitors to loyal customers in no time.
Don't spend time and money learning HTML, PHP, or CSS to code a contact form from scratch — just make it in the AidaForm contact form generator using an intuitive visual editor. Drag and drop every field you need to the template and start generating leads in minutes!
Custom Contact Form Design
Create fully-customizable contact forms with unlimited fields for free. You can be sure that your form is mobile-friendly — all forms created in AidaForm have a responsive UI.
CAPTCHA & Terms Checkbox
Protect your form from spam with CAPTCHA. Inform your customers about your terms and conditions and stay DPA and GDPR-compliant.
Free Embed Code
Add your contact form to WordPress, Wix or other website by copying and pasting an automatically generated embed code. No programming required.
How to make a contact form in a couple of clicks? Check out the ready-made templates from AidaForm! Add the template you like to your account, customize the design and email address to receive responses — and voila, your form is ready!
Step-by-Step Guide to Using the AidaForm Contact Form Generator
Plan out the structure of your Contact Us form and choose the fields you need: name, address, email, phone, text fields, radio buttons and more. Don't forget to add the free CAPTCHA element to protect your inbox from unwanted spam emails. We're taking care of the layout, field validation, error messages and fill-out hints – no worries.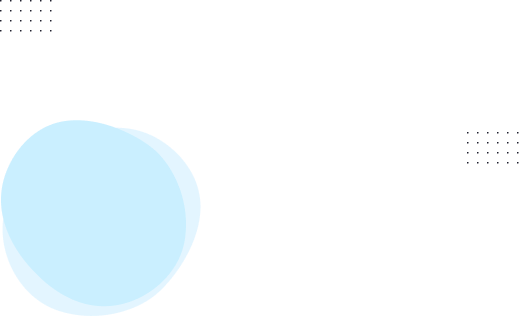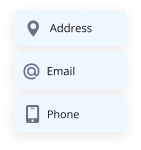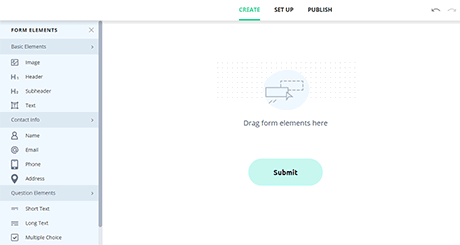 Customize the Contact Form Design
Make your website contact form an engaging experience for potential customers. Choose a color theme and font type to match your website's design, add your company's logo and choose the theme to create an emotional form that speaks to your audience.
Choose between Traditional and Conversational styles — both are supported by AidaForm and you can switch between them with one button.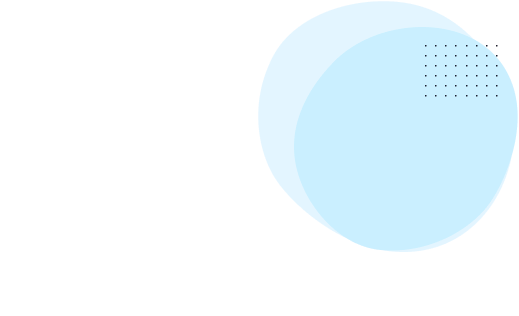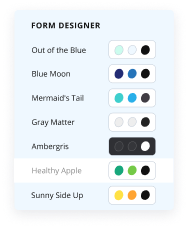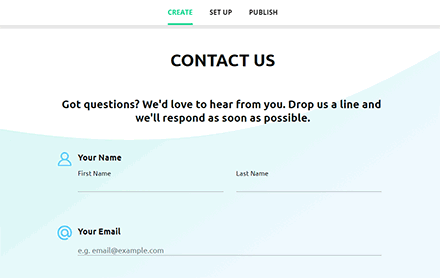 Publish and Embed Your Contact Form
Publishing forms in AidaForm's contact form builder is easy: change the status of the form to 'Published' and the form will be available via direct link right away. Add the link to the 'Contact Us' button on your page, or share it through social networks.
For those who need a contact form for WordPress, Wix or another website, AidaForm generates the embed code automatically. Learn how to add a contact form to your website with our instruction here.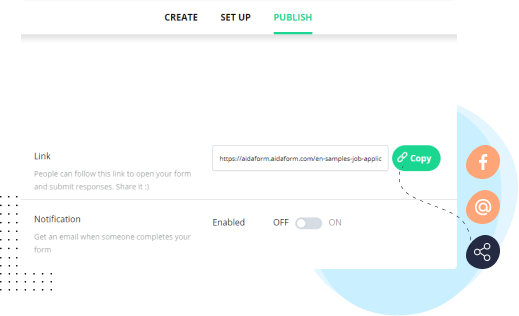 Collect Submissions and Reply to Your Customers
Activate email notifications about new form responses. Receive all the submitted data to your email inbox or a list of recipients at once. Respond to customers directly from your email using the 'Reply To' option. You can also view submissions in your AidaForm account, one at a time or in a visual summary on the AidaForm dashboard.
AidaForm offers the ability to download the data and contacts in Excel, CSV, PDF or you can set up integration with Google Sheets and many other services.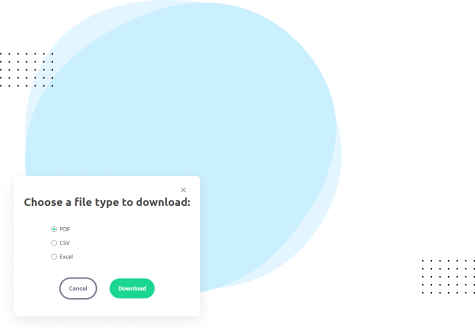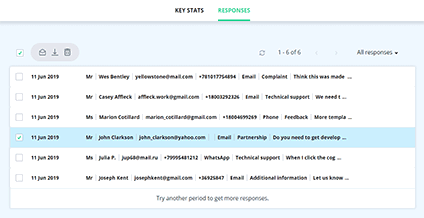 How to Create GDPR-Compliant Contact Forms
Don't bury yourself in the current EU legislation – we know how to make a contact form comply with the data protection guidelines that have been implemented in most developed countries around the world.

Ask for permission to collect user information with the pre-made checkboxes that AidaForm offers:
The Terms of Use and Data Processing Agreement
The Consent to Receive Email Newsletters
Both checkboxes come with the legally correct wording for consent confirmation, all you need to do is add links to your Terms of Use, Privacy Policy and DPA.
3 Tips to Make an Online Contact Form User-Friendly
Make sure you create a contact form that your customers don't struggle with every time they send their contact requests. Here is some advice:

1
Limit the number of fields
No one wants to fill in 15 fields on a web contact form to request a quote or a follow-up call. Make sure you add only the relevant blocks and keep those to a sensible minimum.

2
Make fewer fields required
People are reluctant to share personal data. Studies show that eliminating the 'required' option on the phone number field increases conversion rates by a whopping 275 percent. If you want to gather more information than necessary, let your customers decide whether they want to share it.

3
Rename the Submit button
Make your call to action stand out by customizing the text on the Submit button: Complete Registration, Request a Quote, Contact a Representative – these are all clear options that make people click. Use two to three words in the button name to avoid overloading the user.
AidaForm: More Than Just a Contact Form Builder
AidaForm is an easy and free contact form generator, but the service is not limited to only contact forms. Create surveys, order forms, quizzes and more with stylish conversational blocks that make people stay on your website and let you learn more about your target audience. AidaForm takes care of the code and of usability issues for you, so focus on your business and turn a profit!