Create Your Own Online Consent Form to Collect Signatures and Contact Details Safely
A proper informed consent form needs important formal details like 'Terms and Conditions' checkboxes and signature spaces. AidaForm service backs you up here! Make an online, still printable form using AidaForm's consent form maker yourself in minutes.
Tens of form fields and design tools are waiting to be turned into a fully-functional, legit consent form! That is how we create forms: by combining elements like a simple jigsaw puzzle.
Start building your form from scratch or check out our ready-to-use templates.
4-Step Guide: How to Create an Informed Consent Form Online
Step 1
Add a Consent Form to Your Account
AidaForm amply gifts its users with the free form builder, numerous consent form examples, and convenient web services. Just go through the short registration and get it all as a part of your account!
Whether you opt to build your form from scratch or wish to use one of the templates, use the Form Elements catalog to add fields and questions.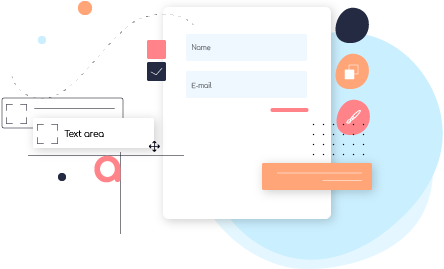 Step 2
Brush Up the Design
Depending on your purpose (entertaining or formal) and your brand style, choose one of AidaForm's vivid color schemes. You also can create a color combination with no limits here. Pick icons, buttons, and a font. Finish your design work by uploading a logo. It's elementary, even if you have no design experience!
On this step, don't forget to turn on the PDF feature to save and print the results afterwards.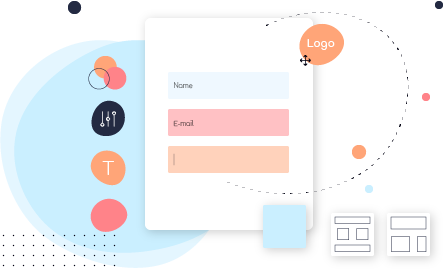 Step 3
Publish and Get Consent
Publish and share the form to get your first signed consent. The
Publish
tab contains a link to share and a short piece of code to embed a form on the site. Choose the way that works better for your purpose or use both! All the results are going to be in the
Results
tab. You also can receive them as email notifications.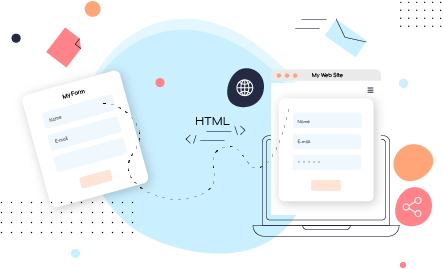 Step 4
Manage and Print Out the Responses
This can be done through your AidaForm
Response Inbox
. Check upcoming consent forms, manage them within AidaFrom or download. You can download just a few necessary files or a whole pile of them. Printing them out is just as simple: open a needed consent file in the inbox and print it out directly from there!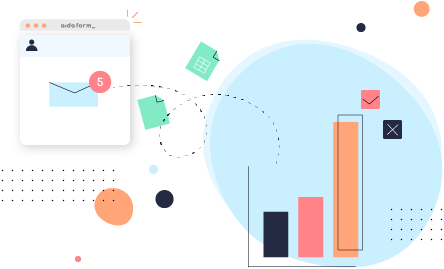 Frequently Asked Questions About Electronic Consent Forms
What is a consent form?
A formal document signed by a person is proof of his/her voluntary consent to be a participant in the activity described in the document. A signed consent form is a critical part of many businesses, medical research studies, non-profit activities and educational activities involving minors. Existing electronic consent forms shift the whole consent collection process to a new, convenient level where people can give their consent and signature within minutes using phones and laptops.
What to include in a consent form?
Usually, circumstances impose the list of details to collect within a consent form. But the frame of it is mostly the same. It contains:
a name and contact details of a client/participant
detailed description for the activity, including both sides' responsibilities
terms and conditions that a person consents to
a personal signature
Emergency contacts, special medical conditions, parent/guardian's contacts (in case of minors) might also be a part of consent forms.
Why and where should a consent form be used?
The purpose of a consent form is to protect medical practitioners, teachers, school and camp coaches or organizers of actions/events from any risks and to give them legal rights to initiate actions. Fields of use include law, research, medicine, beauty procedures, media industry, entertainment and extreme sports activities. All of the mentioned fields need client consent forms to be submitted. Another field where consent forms are essential is any activities involving minors: educational, medical or disciplinary. In this scenario, consent is given by parents/legal guardians on behalf of their children.
Are these consent form templates legally binding?
Yes, AidaForm's consent forms are legally binding since they allow you to electronically sign a form, to link/insert full terms and conditions, and to get acceptance for those.
Using your finger or any stylus device, a person signs the form while the system saves a signature as an image. E-signatures have legal status in most countries now, but we encourage you to recheck and follow your local legal regulations.
How to download a consent form?
Enable the PDF feature to save all the submitted consent forms as PDFs (Set Up -> PDF). Thus, all the forms will be converted into PDF files containing text, images and all the filled data including, e-signatures. To download one or all of them, go to your Results tab -> Response Inbox, select the needed responses and click the 'download' icon on the upper-right corner. That's it!
How to collect data safely?
To collect your data safely, bring it in line with the GDPR statements. GDPR is the General Data Protection Regulation in the EU to protect private data for all individuals within the European Union (EU) and the European Economic Area (EEA). In the context of AidaForm, we provide you a specific form element called Terms and Conditions. Attach your Private Policy link to this element and collect acceptances. For other details, refer to the GDPR official text.