Why AidaForm Online Form Builder
Conversational & Traditional
Make both traditional and conversational online forms. Fully customizable. Stylish. Easy to create!
Unlimited Fields & Forms
Build as many order, registration, evaluation, feedback forms as you need. We don't limit our users even on a Free plan.
Video & Audio Surveys
Get more customers' insights! With AidaForm you can also ask video questions and get text, video, and audio answers!
Quizzes and Tests
Create simple and advanced quizzes and tests. Engage and educate your visitors. Get more leads.
Custom domains
Set up your custom domain once, and add unlimited forms way quicker. We love to save you time and effort.
Landing pages
Create multi-page forms that look like website landing pages.
AidaForm Template Gallery
Choose from a variety of intuitive conversational forms: be friendly or professional, serious or light-hearted. Each form in this easy form builder is mobile-ready and customizable with simple drag-and-drop blocks.
Customer Satisfaction Survey
Make Online Forms in 3 Steps in the AidaForm Online Form Builder
Instead of learning how to create HTML forms from scratch, sign up for the AidaForm form builder and focus on the questions you want to ask. Build online forms that get responses – with the AidaForm online form creator.

Step 1
Create a Form
In the online form maker, you can start with a blank form or select a template. Combine blocks into a

survey

,

quiz

,

registration form

,

online order form

, and so much more. Add standard fields like Name, Email, Phone, Date, Text Area, or File Upload, create multiple choice questions, and drop-down lists by simply dragging and dropping these blocks into your form. Choose a built-in design theme and customize the colors – and that's it! Your form is ready.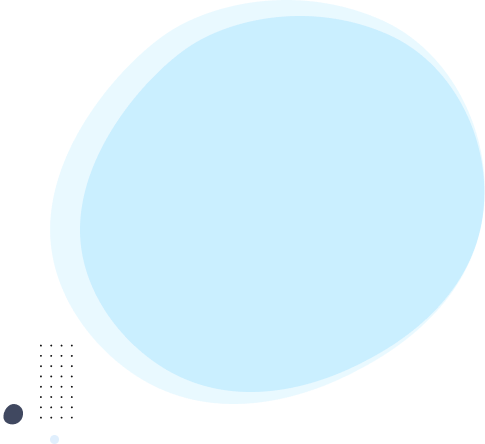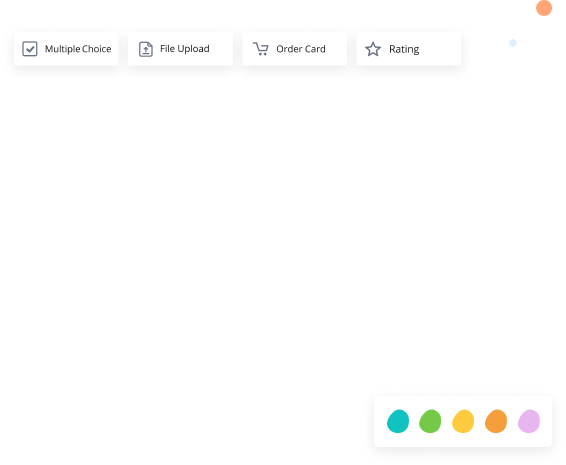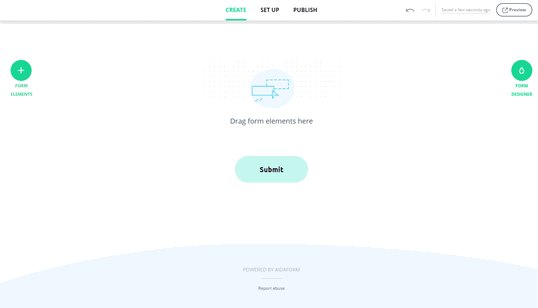 Step 2
Share Your Form
Now let everyone access your form: add the link to the form page to a button on your website. You can also share a direct link to your form on social networks. Whichever sharing method you choose, there is no need to set up any extra server integrations – everything will be processed through the AidaForm easy form creator.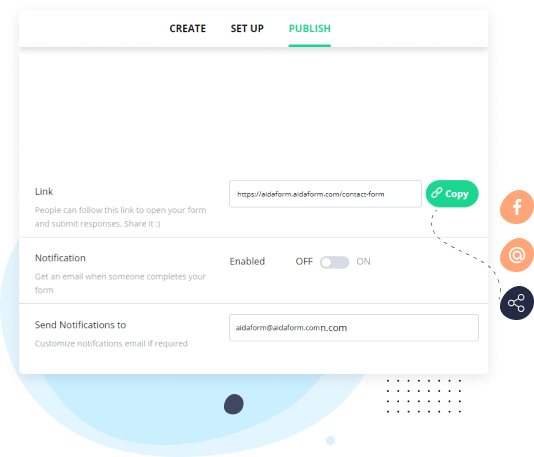 Step 3
Gather Responses
Don't check your dashboard to see new responses – get notified when submissions happen. Just sit back and get to know your customers one person at a time. Export results as Excel documents or Google Sheets to analyze at your leisure. Evaluate the data in informative visualizations through AidaForm's web interface and plan your business ahead.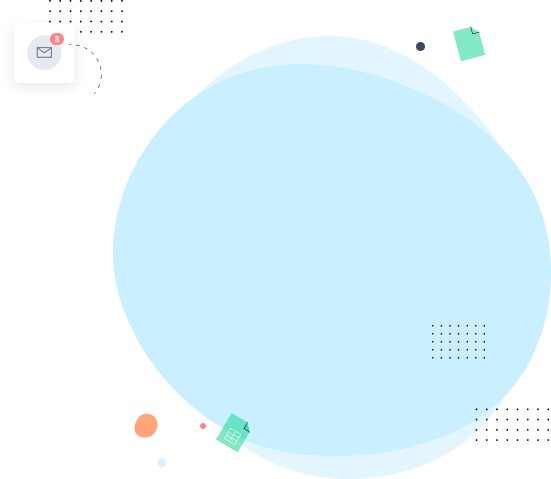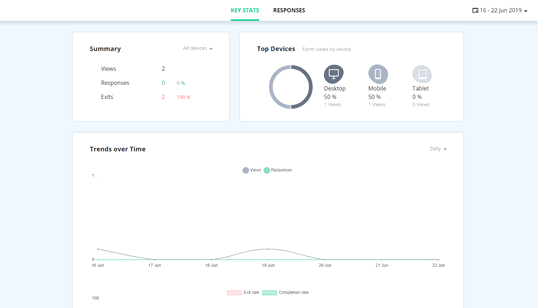 To Make Your Workflow Easier
With the AidaForm online form service, you can focus on your business and automate the rest – it's pretty simple: this form builder streamlines form creation.
DPA/GDPR - Compliant
Stay secure with AidaForm encrypted SSL connection and storage
E-Signatures
Populate consent agreements with data, and capture eSignatures in no time.
Captcha
Make sure real people submit responses and you get no spam in your notifications.
File Upload
For when you need a PDF order confirmation or a bug screenshot attached for the tech support.
Integrations
Sync responses to Google Sheets. Ping people in Slack when a new response arrives. Direct and Zapier integrations.
Response Analyses
Automatically analyze your survey results, track trends, make predictions
Trusted and loved by small startups and larger companies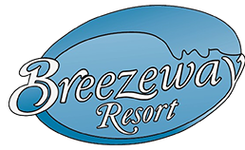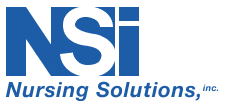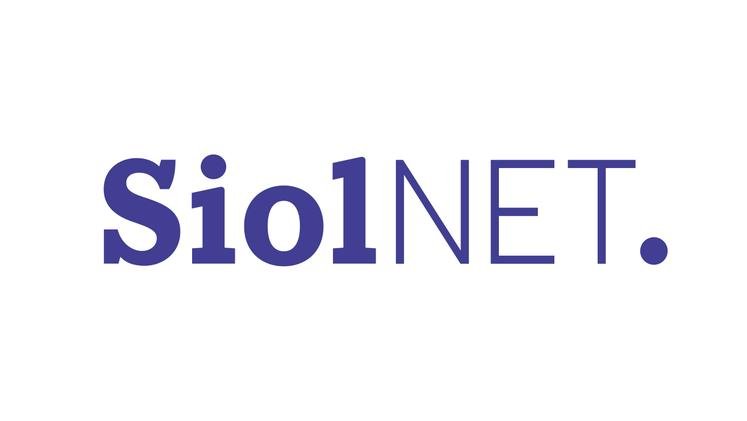 What Our Users Say
Easy To Use. Simple to Integrate"
Overall: It took me about 5 minutes to create my first form and embed it into my website. I've used several form software including Typeform, Paperform, and Zoho Forms and Aidaform is extremely competitive and much more affordable.

Very simple to create a custom form from scratch or use one of the pre-built templates. Perfect affordable solution.
I am satisfied with the product. After a long search, it turned out to be what I needed."
I created a perfect form to apply for a job at our Agency. Construction was easy, fast, with a rich set of tools in the free version. Wide selection of themes, options, graphics, colors .... Easy to implant on our site.

Quick and easy customer access when clicking, open on the form, fill in and send. Quick feedback to us - both in the profile and in our e-mail. Ideal layout of the form in PDF format when sending to us.
AidaForm is an Easy, Affordable Solution for Collecting Valuable Data"
In the short time I've used AidaForm, I've been able to replace my contact form on multiple websites with a nicer, cleaner form that is more reliable than using Contact Form 7 (for some reason about 1/4 contact requests just never seem to come through on CF7, and no one I've talked with seems to know why).

I've also built a quick customer satisfaction survey and sent it to my list that has provided valuable feedback, so it's proving handy in multiple scenarios.
One of the best Conversational Surveys"
What I like most is that you can set your survey to mimic a conversation. The viewer will have a much more pleasant experience when they complete your survey if it's like a real conversation. One question at a time, less distractions, with possible logic jumps.

As a design business, I need forms that look nice and have a great UX, the customizability with Google Forms are very limited, and there is no possibility to make the forms conversational.
Best alternative to JotForm anywhere...."
It's intuitive format for easy form creation and setup are key, but the biggest factor that tops all features is the incredible and fast response times from support when an issue or concern arises. AidaForm is sophisticated enough for a seasoned form creator and simple enough for a beginner. It's clean and intuitive interface and affordability factors make put it at the top of the charts for form creation tools.

It's a perfect alternative to JotForm in that it is both more affordable and easier to use. I use AidaForm for business card ordering for my own business, but also use it for simple lead generation forms on my client websites. AidaForm is simple to get started and can have a form created and implemented on your website within minutes. And it's easy to send clients links to the form even if not on your website.
We use Aidaform weekly and love it."
We like everything about it. It is simple to use and looks great. It's simple to embed and easy to find all of the functions, everything is in one place.

We use it both for our students and for internal information gathering. It's so much easier on the eyes than Google Forms and overall 'feels' better.
Great product for collecting data about your customers"
It's a great tool for collecting feedback and conducting interviews. Taking into consideration the price - it's the best decision on the market.

The most beautiful features of this product are:
Nicely looking view (it is far ahead of standard google forms).
Great statistic capabilities (you can check devices people uses to answer your forms and time when they did this).
Adding captcha for verification.
Possibility to integrate with 3rd party services.
Best form application on the market"
I spent days finding And testing the perfect form at a low cost and this is the only one that meets all my requirements and looks nice too.

It's easy to use and has everything you could need in a form. Plenty of customization but not too much that someone could make it ugly or nonFunctional.
What all form platforms aspire to be..."
AidaForm is just flat out gorgeous. Usually with form platforms you sacrifice UI for powerful tools, but AidaForm is an exception. You get powerful tools AND a great looking platform.

The ability to conduct tests and quizzes are a huge plus for my use case, but every other block is super useful as well. The configurations and use cases are endless. The devs are quick to implement feedback as well. When the request of removing the 'Back' button was suggested for quizzes, they were quick to launch it in their next update.
Best way to completely systematize your business"
I've found there are so many benefits of using a third party software than trying to program one into your website or relying on a wordpress plugin to get you that information (too many plugins fail and your web design can't always be trusted to fix every database issue…